Harvest Appeal
Last year we received food to the value of £25k from faith groups and schools which fed local homeless men and women through the following winter months.
This year, Covid-19 has forced us to reshape Harvest. Transporting donations between homes, schools, churches and then our projects increases the risk of infection. To ensure everyone remains safe we are asking for financial donations.
Your donations will enable us to purchase essential items according to need, help us to plan for the full year ahead and allow us to buy fresh produce – supporting our clients health at this critical time.
Meet Paul
I am unable to share much of my experiences of homelessness.
I still feel incredibly anxious now recalling that time in my life – particularly my state of mind, the way I was treated and the awful experiences I had living on the street, constantly feeling afraid and alone.
However I do feel compelled to talk about the invaluable care and support I received from Turning Tides when I needed it most.
Go The Distance 2020
World Homelessness Day - 10.10.2020
Use the date to Go the Distance for homeless men and women in your community - any day in October. You can run, walk, swim, cycle, dance and much more. Create your own 10 or 20 challenge!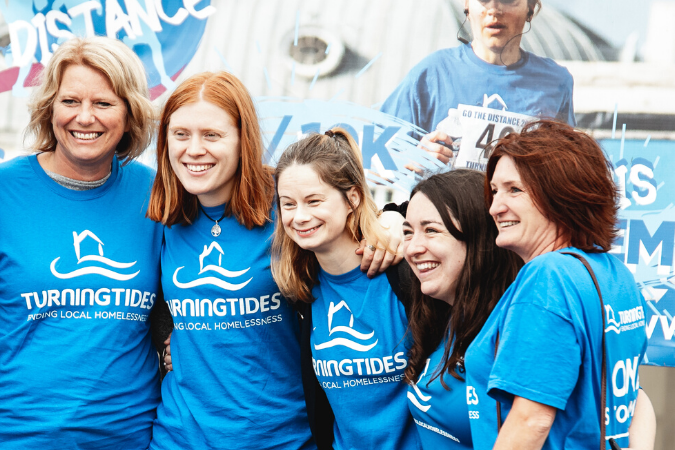 Get Involved & Make a Difference
There are so many ways you can support homeless men and women in your community. By supporting us – you are supporting those most vulnerable.
We run our own amazing events that you can come to, sponsor or share with others. We recruit volunteers and staff to support the projects we run across the county. We welcome students to join us for their professional placements. We encourage businesses to join us on or DIY corporate volunteer days and much more.
One thing we can promise you is that however you get involved – you will have made a difference.