Leave a gift in your will
By leaving a gift in your will you will be improving the lives of homeless men and women in your community long after you have gone.
Writing a will prompts big personal decisions and your loved ones will always come first. But we also know that having a gift left in a will enables our life saving work to continue – no matter how big or small the gift. We can only continue to offer our vital support thanks to incredible supporters like you. Leaving money to Turning Tides might also reduce or remove your estate from inheritance tax.
There are different types of gifts that can be left in a will:
Specific gift – you can leave specific items such as property, jewellery or furniture that we might benefit from.
Cash gift – leaving a pecuniary legacy, you are instructing your solicitor that you would like a certain amount of cash to be left to Turning Tides.
Residuary gift – the remainder of your estate once gifts left to loved ones have been shared out and any taxes or debts are paid. In leaving this type of gift you ensure that all your estate is divided up between people and causes of your choice and not left to the government to disperse.
Ensure your will is valid and legal by using a professional will writer or a solicitor. They can explain to you how to ensure the people you want to remember and any charities you want to support are recognised in your will.
We would love to know if you intend to leave us a gift. This will allow us to thank you and let you know how your gift will benefit the people we work with.
Get in touch with our Fundraising Team
Email: fundraising@turning-tides.org.uk
Phone: 01903 680740
Why Sally is leaving a legacy
I have been involved in the charity for a number of years. I held a stereotypical view of homelessness that I came to realise was untrue. The more people I met who had been helped by Turning Tides, the more I realised that each of us is so very few steps away from homelessness – the loss of a job, breakdown of a relationship or ill health is all it takes to lose your home.
I decided to support the charity by volunteering and donating money. Having worked in the charity sector, I am well aware of the need and difference generous donations from a legacy can make, often making up a significant percentage of a charities income.
I am leaving 10% of our estate in my will to Turning Tides. I have always given to charities so why not continue when I have passed away? Whilst 10% might not seem much it is a great way to give as it will keep pace with inflation.
I am confident Turning Tides will continue to provide such an invaluable and much needed service. I will be contributing to that – even when I have passed away.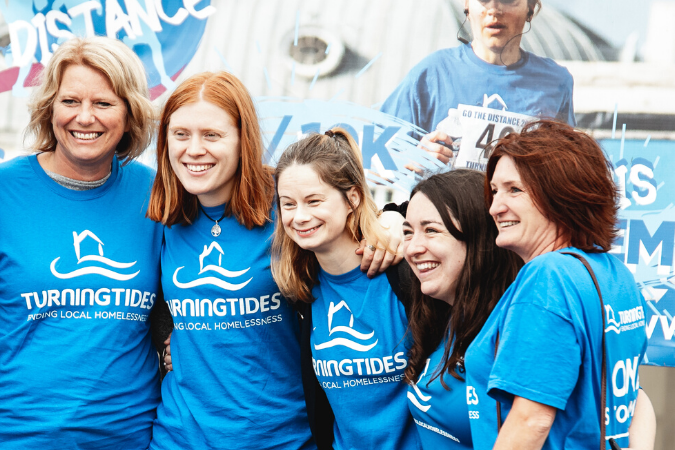 Get Involved & Make a Difference
There are so many ways you can support homeless men and women in your community. By supporting us – you are supporting those most vulnerable.
We run our own amazing events that you can come to, sponsor or share with others. We recruit volunteers and staff to support the projects we run across the county. We welcome students to join us for their professional placements. We encourage businesses to join us on or DIY corporate volunteer days and much more.
One thing we can promise you is that however you get involved – you will have made a difference.