Do you have any unwanted digital items?
We need laptops and tablets to give to our clients to ensure they stay connected. Find out more about our digital inclusion 
PLEASE BE AWARE:
All donations should be taken to our storage unit.
Please phone us before donating, so we can check it meets requirements and we have the storage.
Please donate items and quantities responsibly, so that others can also acquire them.
Please leave donations outside at the Unit, during the opening times, to ensure the protection of your health in respect to social distancing.
Address: Unit 1, Thesiger Close, Worthing, BN11 2RN
Open: Tuesday, Wednesday & Friday 9am – 12:30
CONTACT DONATIONS CO-ORDINATOR
Phone: 01903 680740 Ext: 248
Mobile: 07703 836015

Frequently Asked Questions
Can you collect donated items?
We can indeed collect items, from within the county, that are to be donated. Generally, we would only collect furniture items or larger donations which require a van.
We would ask that you call our Donations Co-ordinator to discuss and arrange collection.
Phone: 01903 680740 Ext: 248
Mobile: 07703 836015
What is a Wish List?
We produce a monthly wish list of the items we need most across our services in West Sussex.
Our Donations Co-ordinator, towards the end of each month, will check our current stock of food, clothing, furniture and other items, as well as finding out the needs from each of our services. We will then produce an up-to-date list of items that are needed at the beginning of each month which lasts for that whole month.
Do any items have to be new?
Yes. For personal items, such as underwear, we do require them to be new.
What if I cannot drop off my donation during the week?
We do appreciate that opening times for our Unit are weekdays.
If you are unable to come to our donations unit at the times we are open, please call our Donations Co-ordinator to arrange a suitable time to either have the items collected from your house or a neighbour's.
Phone: 01903 680740 Ext: 248
Mobile: 07703 836015
Do we do house clearances?
Unfortunately, this is something we are unable to do. We have very limited storage and therefore have to limit donations to those items we need and would use within a short timeframe.
If there are any items which are on our wish list we would be happy to have them.
What happens to donated food items?
Donated food items are stored centrally at our Unit in Worthing. Items will be date checked and stored ready for distribution across our services. These items will be used to feed homeless men and women who approach our Community Hubs and also eaten by those residing in our accommodation throughout the county.
When a client moves on into independent accommodation, we will often provide food parcels to initially help them get settled.
What happens to surplus items that no longer needed?
On some occasions we may have surplus items, such as food, that would go out of date before we can use it.
In this case, we contact other local charities to see if these items can support other men and women who are facing financial hardship. For example, we often approach Food banks, Salvation Army and Emmaus to share surplus items.
What happens to donated clothing?
We no longer have our charity shops, so clothing needs are now limited to those required by local men and women accessing our services.
Donated clothing will be checked and sorted to determine suitability and then delivered to our Community Hubs and accommodation services throughout the county.
For example, a client presenting at one of the Community Hubs may not have a clean change of clothing or they may be wet from spending the night sleeping rough. We will offer them the donated clothing that the community have kindly provided us.
Bedding and towels are used in our residential accommodation services.
What happens to clothing that isn't needed?
If we receive clothes and textiles that are not suitable, we can pass these onto other charities or we can recycle them and receive money for the weight of items which can then go straight back into supporting our services.
Why do you ask for cleaning products?
It is important to keep our Community Hubs and accommodation clean and hygenic. Cleaning products tend to be expensive and are always needed. Your donations help us to save money on purchasing those items.
What happens to donated furniture?
Furniture will be used across our services to replace or replenish our current furniture. Often when we open new services or create more rooms in our current accommodation, we need to fully kit out a room to ensure the client will feel comfortable and have everything they need.
We also support our clients when they move into independent accommodation to ensure they have everything they need to set up their new home.
Do you accept donations of duvets and blankets?
Yes we do accept these if they are included on our Wish List. The items must be laundered, stain free and single size.
Why do you only need single beds and bedding?
Our accommodation is for single adults to reside, therefore we do not need any double beds or bedding.
Other Ways To make a difference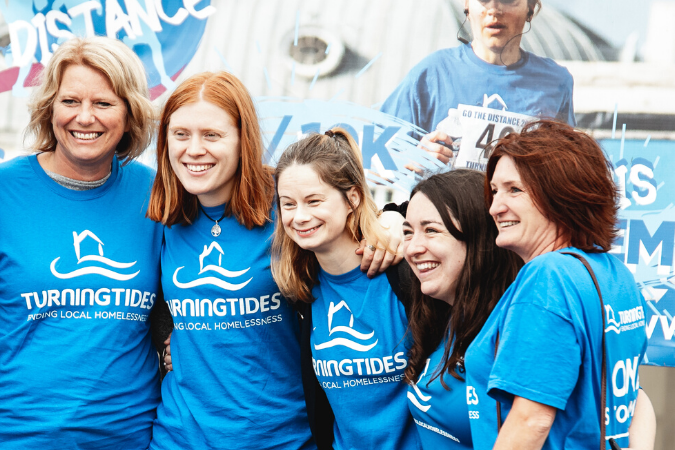 Get Involved & Make a Difference
There are so many ways you can support homeless men and women in your community. By supporting us – you are supporting those most vulnerable.
We run our own amazing events that you can come to, sponsor or share with others. We recruit volunteers and staff to support the projects we run across the county. We welcome students to join us for their professional placements. We encourage businesses to join us on or DIY corporate volunteer days and much more.
One thing we can promise you is that however you get involved – you will have made a difference.