As services such as health and jobcentres increasingly move online, it becomes even more difficult for our community to access the vital services they need to move out of homelessness. Covid-19 has exacerbated this along with the social isolation experienced by many of our clients.
That's why we're asking for donations of your old, but working laptops and tablets.
With your donated tablet or laptop, our clients can access vital healthcare and benefit services, apply for jobs and accommodation, take online educational and recovery courses, and maintain the contact with family and friends that's so important to mental health and wellbeing. Without digital access, all of these things become increasingly harder to achieve.
If you, or someone you know, has a new laptop or tablet we are offering to take your old, working, device and pass it to one of our clients.
Equipment should preferably be no older than 4 years and you must have physically applied a factory reset and wiped the hard drive. Items can be dropped off at our Donations Unit.
Please ensure your donated laptop or tablet:
• has had a factory reset applied
• has had the hard drive wiped
• is preferably no more than 4 years old and
• is in working order.
Address: Unit 1, Thesiger Close, Worthing, BN11 2RN
Open: Tuesday, Wednesday & Friday 9am – 12:30
CONTACT DONATIONS CO-ORDINATOR
Phone: 01903 680740 Ext: 248
Mobile: 07703 836015

Frequently Asked Questions
What digital items would you like donated?
Laptops and tablets that are in working order and no more than 4 year old. We cannot accept broken, non-operational laptops or tablets.
What should I do before I donate my laptop/tablet to ensure the security of my information?
Please ensure you apply a factory reset and wipe the hard drive prior to donating your tablet or laptop.
There is an informative Which guide which explains how you can do this.
I have software on my device, do I need to supply the discs or licenses?
If you have these available, please bring them with the laptop/tablet but we can still use the device if you don't.
Where should I take my donated items?
Please take them to Turning Tides, Unit 1, Thesiger Close, Worthing BN11 2RN.
Open: Tuesday, Wednesday & Friday 9am-12.30. Please contact our donations co-ordinator Christine on 01903 680740 Ext: 248 or 07703 836015 for any queries.
Do you need all the cables my tablet/laptop came with?
Yes. Please include any cables, chargers etc. that came with the tablet/laptop if you still have them.
What if I don't have the charger or cables the equipment came with?
Although it is preferable to have the original charger and cables that came with the laptop/tablet, we can still use it without these.
Do you need monitor screens donated too?
We can use working monitor screens that are less than 4 years old for some of our clients so we will accept donations of monitors. However, the greatest need is for tablets and laptops.
What will you do with my donated laptop/tablet?
Once we have received your donated item it will be given to a technical member of staff who will check data and software has been wiped. They will then install Linux, an open source operating system.
The item will then be given to one of our clients to own. They will then be responsible for that item as it will be considered theirs.
Along with providing a device, clients will be supported to build their digital confidence and skills so they are able to fully explore and use their device to its fullest potential.
What if my device is subsequently used inappropriately?
Turning Tides will not be liable/responsible for the future use of the laptop/tablet in the unlikely event that a donated laptop or tablet is subsequently misused.
All donors are required to have wiped their data completely before donating the item.
Other Ways To make a difference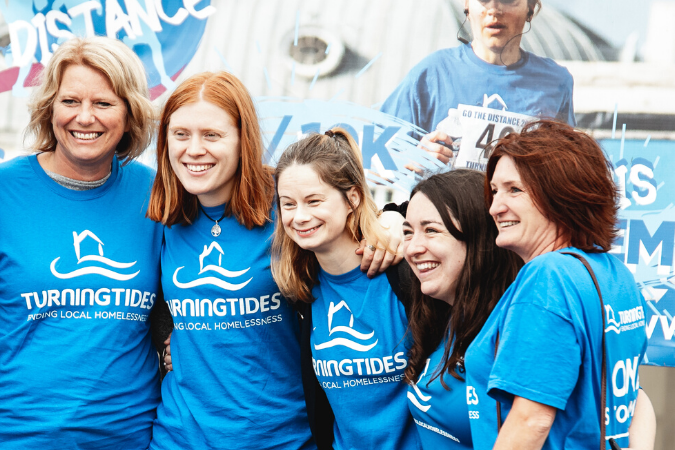 Get Involved & Make a Difference
There are so many ways you can support homeless men and women in your community. By supporting us – you are supporting those most vulnerable.
We run our own amazing events that you can come to, sponsor or share with others. We recruit volunteers and staff to support the projects we run across the county. We welcome students to join us for their professional placements. We encourage businesses to join us on or DIY corporate volunteer days and much more.
One thing we can promise you is that however you get involved – you will have made a difference.