Big Summer SleepOut 2021
Date:
14th August 2021 - 15th August 2021
Time:
5:00pm- 6:00am
About this event
The Big Summer SleepOut 2021 – Can you give up your bed for one night, so others don't have to?
Turning Tides are calling on the community to give up their beds on the night of Saturday 14th August to raise money for, and show solidairty with, the rising number of people who are experiencing homelessness in West Sussex.
The Big Summer SleepOut is a fun, free event that invites anyone and everyone to surrender their bed for just one night, choosing an alternative place to sleep – slip into a sleeping bag, bundle up in the bath, snooze under the stairs, doze in a den or just sleep out under the stars – and we are offering prizes for the best dressed den, during an evening of quizzes, stories, games and Q&As on the event's live stream.
"This is such a fun way to really make a difference in our local community, The Big Summer SleepOut offers a brilliant family-friendly way to highlight homelessness and reflect on people who are less fortunate." – Ruth Poyner
Homelessness can happen to anyone – especially now – and we need everyone's support to end it. Why not rope in as many friends and family as you can and have a socially distanced SleepOut that makes a massive social difference?
We will provide participants with everything they'll need to fundraise – including a DIY Summer SleepOut pack. It's easy and free to take part!
Sign up and start your fundraising journey now and make a big social difference!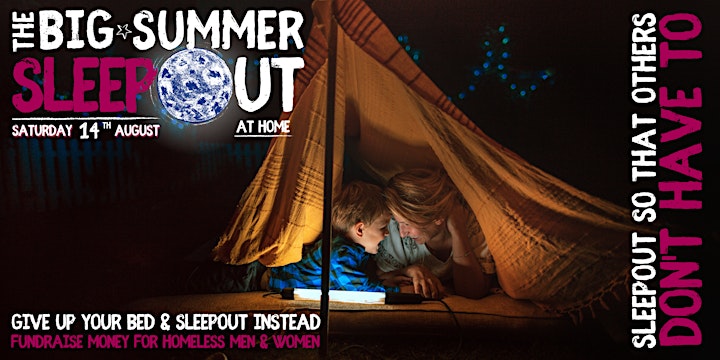 Other ways to get help
​If you, or someone you know, is at risk of or has become homeless, please visit our help section to find out other local sources of advice and support.
You can find lots of useful local services who can provide practical information and advice on a range of matters such as housing, benefits, money management, mental wellbeing and much more.
You can find the contact details of your local council and the Frequently Asked Questions will signpost you to other sources of support