Big Summer SleepOut 2022
Date:
18th June 2022 - 19th June 2022
Time:
6:30pm- 5:00am
Location:
Worthing FC
Woodside Road, Worthing, BN14 7HQ

View map
About this event
Wake up to homelessness! Spend one night under the stars and support your local homeless charity.
Make a stand against homelessness on Saturday 18th June.
Spend one night under the stars at Worthing Football club to show your solidarity.
Pre-registration is essential and participants will be supported to fundraise prior to the event. Funds raised will directly support the work of Turning Tides. 
A growing number of people forced to sleep rough are relying on our Community Hubs across West Sussex to provide them with warmth, safety, food and support.
You are encouraged to reach out to family and friends to raise vital funds and support our life-saving services. The Fundraising Team will be on hand to help you with this every step of the way.  
Please note the following:
This event is for anyone 16 and over. 
If you are under 18 you must be accompanied by a paying adult, who will supervise you. Adult to child ratio is 1:1
Starts at 6:30pm and finishes at dawn on Sunday 19th June. Please arrive before 7:30pm on Saturday.
Spaces are limited so please book early to ensure your place. 
You will receive a fundraising pack upon registration that contains all further details and relevant information.
Registration fee includes a light evening meal, breakfast and unlimited soft drinks.  Please note alcohol will not be permitted. 
Tents will be not be allowed and you will be responsible for bringing your own kit. See your fundraising pack for suggestions of essential items to help you prepare.
All relevant safety and covid regulations will be taken to ensure the wellbeing of all participants. 
There is also a fun and informative daytime event that is free to attend to all members of the public from 12noon to 4pm, within the football club grounds.
Terms & Conditions apply – please refer to your fundraising pack for more details.
Should you wish to promote our SleepOut please print our poster
A heartfelt thank you to Worthing Football Club for generously hosting the SleepOut this year and also our wonderful event sponsor Priavo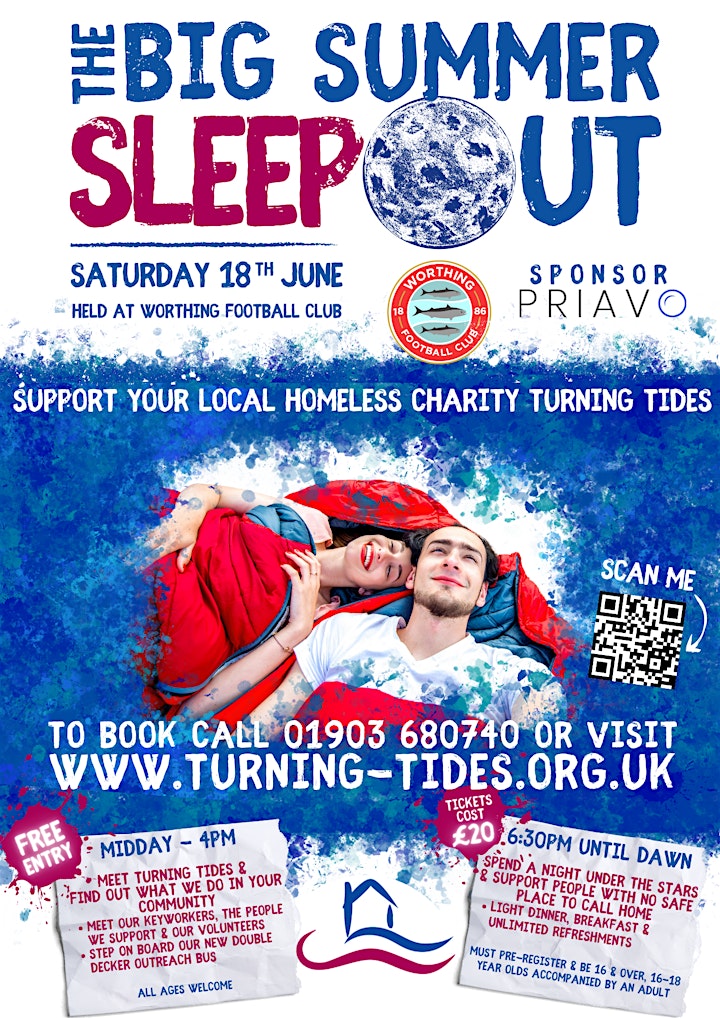 Other ways to get help
​If you, or someone you know, is at risk of or has become homeless, please visit our help section to find out other local sources of advice and support.
You can find lots of useful local services who can provide practical information and advice on a range of matters such as housing, benefits, money management, mental wellbeing and much more.
You can find the contact details of your local council and the Frequently Asked Questions will signpost you to other sources of support